Over the past year or so on our 100 East Fine Jewelry website blog, I provided some history, facts and lore about most of the officially recognized birthstones. There are dozens of less familiar, jewelry-quality gemstones which are not designated as a birthstone. At 100 East Fine Jewelry, we select gemstones for our jewelry pieces based on their beauty, not their popularity. One outstanding gemstone we've used that isn't a birthstone is apatite. We've used apatite gemstones as accent pieces in some of our moonstone jewelry. The color of these apatite gemstones is similar to Little Boy Blue from the Pantone 2018 Spring Color Palette. If you have an appetite for apatite, here's a little history, a few facts and some lore about this increasingly popular gemstone.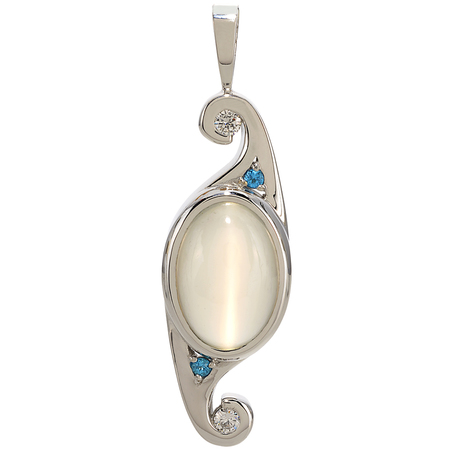 Apatite is the name of a group of pale green to purple phosphate minerals as well as the name for gemstones best known for their broad array of colors and forms. Apatite's name is derived from a Greek word meaning "to deceive or mislead" because the mineral was commonly mistaken or confused for other minerals. Certain apatite mineral compounds are contained in the human body as major components of tooth enamel and bone mineral. Well-cut apatite gemstones are bright with strong colors and are reported to be well regarded among gemstone collectors. Gemstone quality apatite is not commonly used in the commercial jewelry trade nor is it well known among the general public, but it's growing in popularity.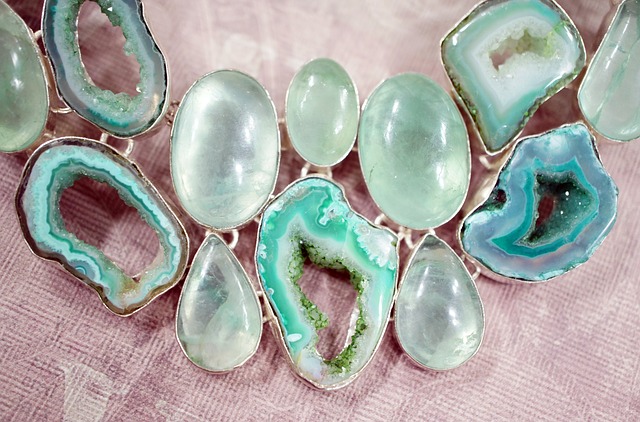 Apatite gemstones can be colorless and also comes in shades of green, violet, blue, pink, purple, yellow, orange and brown. A rare apatite variety is a rich, deep purple color primarily mined from Mount Apatite in the US state of Maine, as well as a couple other locations in the world. Apatite mining also occurs in Myanmar, India, Kenya, Brazil, Norway, Sri Lanka, South Africa, Mexico and Canada. Madagascar is known to produce a neon blue-green material that rivals the color of the famed Paraiba tourmaline. It is this neon color that we chose for our moonstone pendants to add a splash of color. Other than a blue color which may be heat treated, apatite gemstones are typically not treated. It is particularly rare in sizes over one carat.
Apatite is not a very hard gemstone, rating a 5 on the Mohs scale (a hardness scale of 1 to 10, with diamond being a 10). It is more susceptible to scratching or damage than many of the more popular species. Apatite gemstones should be set in more protective mountings that capture light yet safely display their beauty. It is definitely not recommended for use in rings or bracelets, but rather for earrings, pendants or pins.
Apatite gemstones have very little fame, myth or legend attached to them. However, many gemstone lovers are fascinated by the lore and powers of gemstones associated with the human body. As such, apatite is believed to have some extremely powerful healing abilities, such as aiding the immune system and cleansing the glandular, lymphatic and meridian systems. It is also thought to be a stone of learning and inspiration. Psychologically, apatite is believed to help you release those energies and/or people who no longer serve your greater good in life and detoxifies negative emotions relating to self-image. It helps the wearer to accept love, comfort, support, and self-love.