Designing and creating a piece of jewelry, for me, is not a rigid, linear process. By rigid, linear process, I mean, one in which I follow the same steps in the same order every time. If that was the case, my process would always look something like: miraculously summon up the perfect design idea, sketch the idea on paper, define, search for and acquire the gemstones needed for the design, provide the sketch and gemstones to my jewelry maker to create CAD renderings and manufacture the finished piece. In a prior blog I published, entitled "How a Morning Garden Walk Served as Design Inspiration for My Tanzanite Pendant", this was generally how the process worked. Here is the story behind the inspiration for my Montana mined sapphire earrings.Sapphire Earring Design Inspiration: Sunset
My jewelry design process, in actuality, is often very fluid, disorderly and chaotic. The design inspiration may start elsewhere in the process or may evolve or change at various points. Sometimes I see a gemstone that catches my eye and triggers the design inspiration. In other cases, I may start with one design concept in mind and change it later in the process. This was the case with a family of 4 earring sets I created. Here's their story.
My wife and I were to attend a wedding 'up north' in Michigan's lower peninsula, not far from Mackinac Island. We decided to drive the scenic Lake Michigan coastal route up and back. Between the drive and wedding reception, we had the pleasure of witnessing three absolutely stunning sunsets.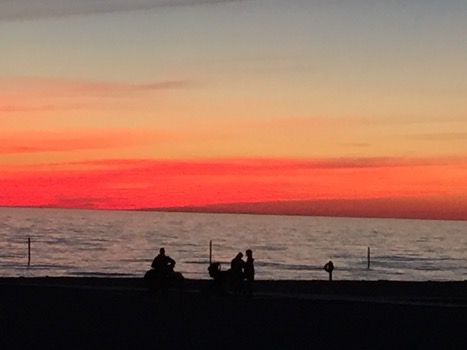 The first sunset picture was taken on the drive up to the wedding at Holland State Park, home to one of the busiest beaches in Michigan. This expansive sandy beach is located amongst large sand dunes, which border the eastern shore line of Lake Michigan.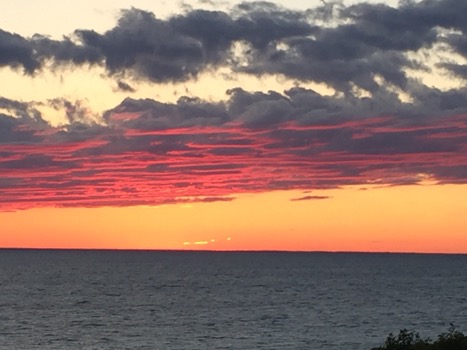 The second sunset picture was taken from a bluff overlooking Lake Michigan just north of Harbor Springs in a section of road known as the Tunnel of Trees.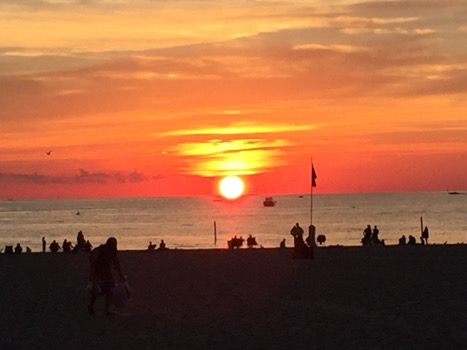 The last 2 pictures were also taken from Holland State Park on the return trip.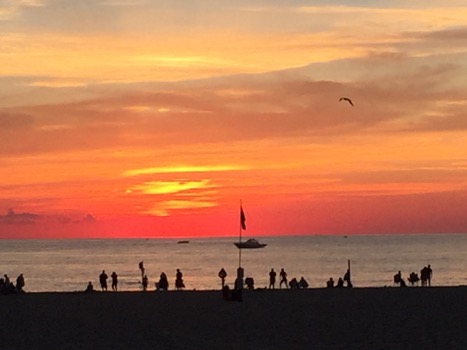 Prior to the Michigan trip, I was putting the finishing touches on an intricate design for a pair of white gold filigree earrings with 10 gemstones strategically placed among meandering vines of gold. I purchased near colorless diamonds to set in the earrings, but something just didn't feel right about the look. Because of that, I procrastinated sending the design package to the jewelry maker.
When we returned from the Michigan trip, the mental image of those gorgeous sunsets over Lake Michigan, brimming with a montage of radiant yellows, oranges, pinks and purples stuck in my head. It finally occurred to me that I needed to introduce more life in the earrings by adding color. My first thought was to create one set containing all four colors.
Conchita Montana Sapphire Butterfly
First, I needed to get the perfect gemstones. I recalled a conversation I had with a gemstone dealer when researching a gemstone for another client. He told me about lovely Montana sapphires he carried which came in a beautiful array of bright, fancy colors, not just blue. In fact, the colors were so intense that he and famous jewelry designer, Paula Crevoshay were inspired to collaborate and create a stunningly brilliant multi-colored butterfly which they donated to the Smithsonian Institute - pictured below. He sent me a picture of the butterfly with its vivid array of Montana sapphires. I also saw it in person at the Smithsonian exhibit at the AGTA Tucson Gem Show.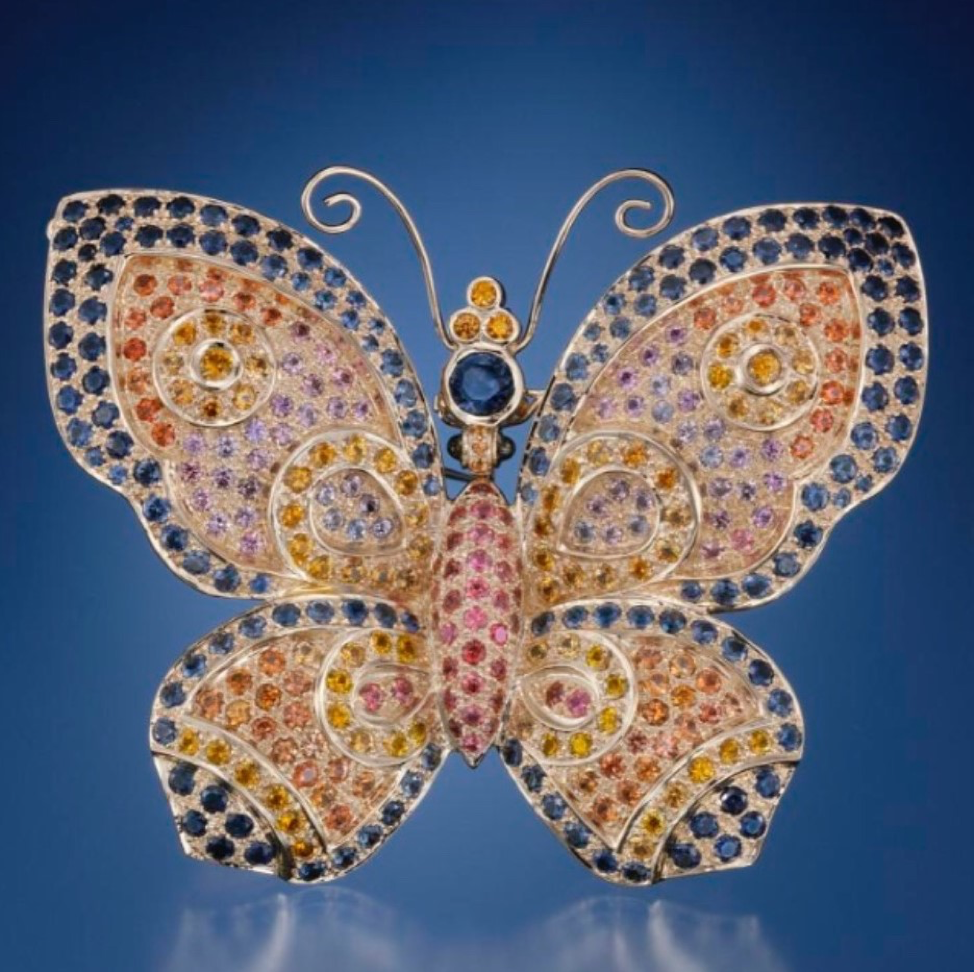 Montana Mined Sapphire Gold Earrings
I discussed with the dealer the sapphire colors and intensities I wanted. He hand-picked yellow, orange, pink and purple samples. After seeing the stones, instead of one pair containing all four colors, I decided to create 4 pairs, each with a different combination of gemstone and metal colors. This way, each pair could remain unique and one-of-a-kind. The combinations I chose were yellow gold and pink sapphires, white gold and yellow sapphires, yellow gold and purple sapphires and white gold and orange sapphires. Below are pictures of 3 of the 4 earring sets. The purple sapphire and yellow gold pair was sold before even photographing for the website. Click the link for the sapphire jewelry images to learn more about each of these intricate sets of earrings: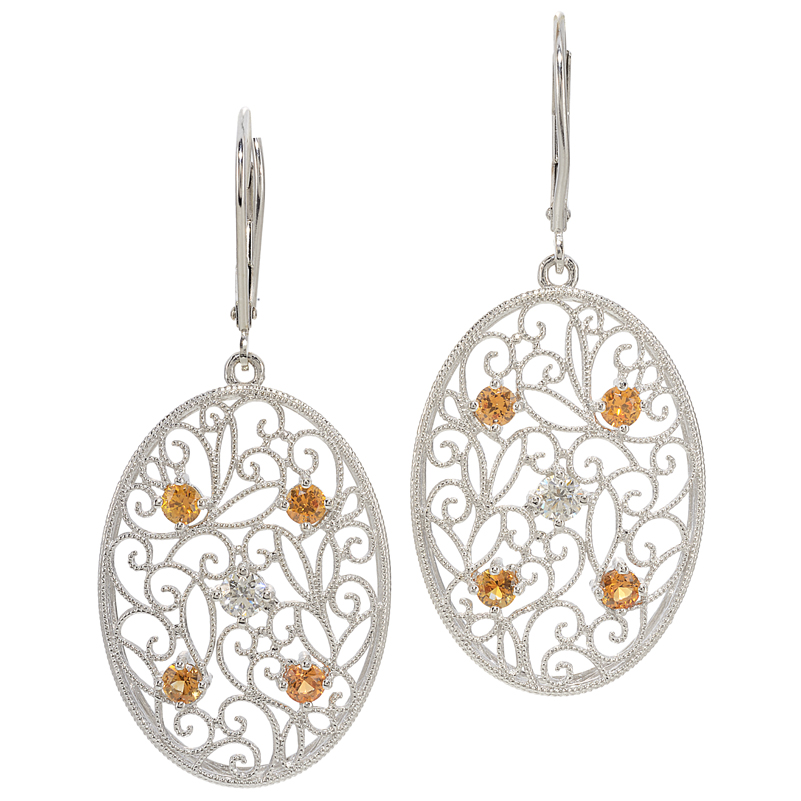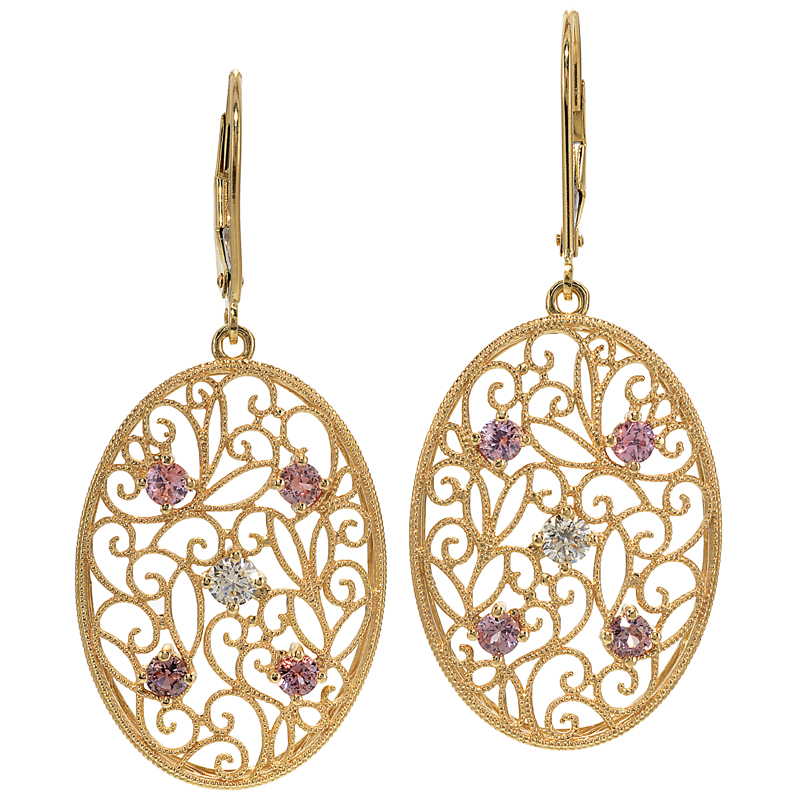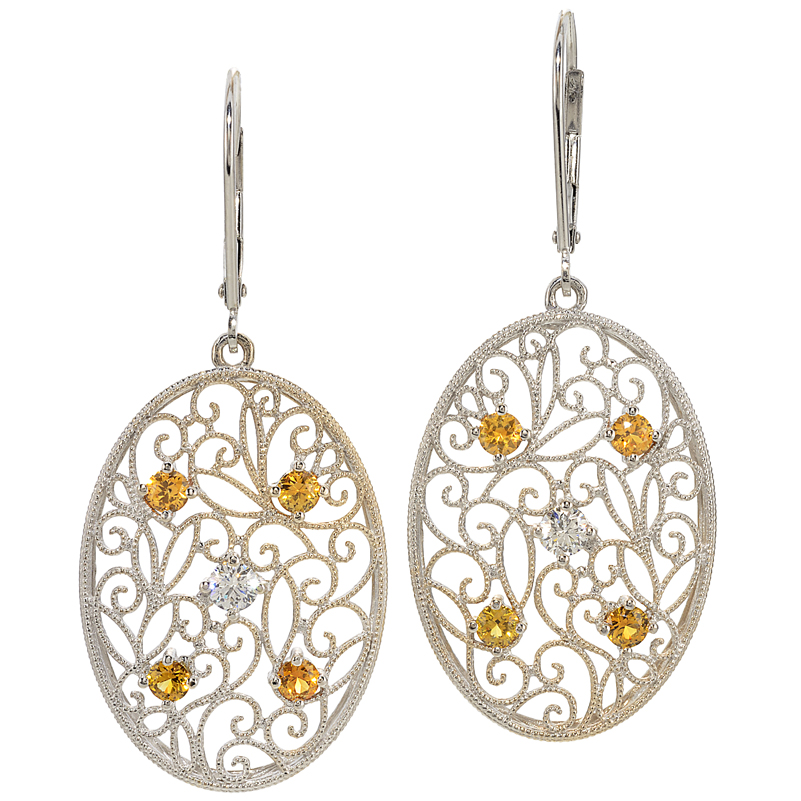 That, my friends, is the rest of the story on these designs.