In the About Our Designs section of the website, I discuss the inspiration for my jewelry designs, as follows: "Inspiration for a design can come from anywhere. You name it, anything in my surroundings or life experiences can ignite that creative spark: a gemstone, travel, architecture, science, nature, shapes, colors and so forth. I never know what will capture my imagination." Well, one very important life experience led to the design of this massive sapphire and diamond bracelet in 18 kt white gold.
It was all about design help from our six year old granddaughter, Sophie (pictured below) and a promise I made her.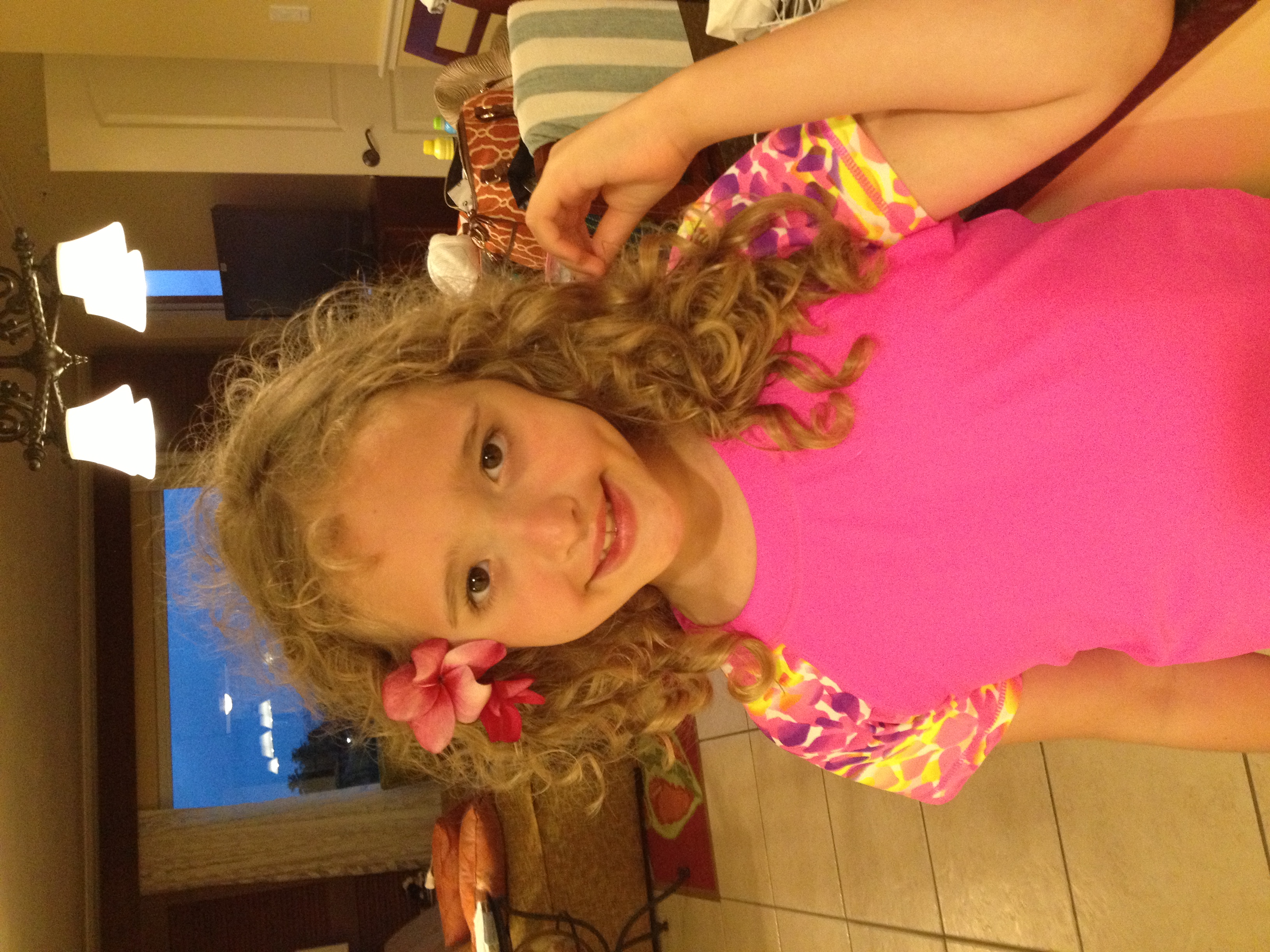 Sophie was listening to our daughter, Erin, and me discussing a design I was working on. When the conversation finished, Sophie asked me "Pop pop, you and mommy were talking about different shapes, but I never heard of them. What did you mean?" I explained I've been working on a ring design and mommy and I were discussing which gemstone shape looked best. I went on to tell her most gemstone shapes are familiar to her, but the people who make gemstones gave them special names. Sophie asked "Like what?"(I was really glad she didn't ask "Why" because I had no answer for that!). I drew common gemstone shapes and asked her what she called the shape. Then I told her what a gem of that shape is called. So, it went; circle (round), heart (heart – fooled her on that one), egg (oval), tear-drop (pear), pillow (cushion) and football (marquise). She asked "Pop pop, can I make a jewelry picture for you?" I said "Sure!" and gave her my sketch of different shapes, a small hotel notepad and a pen.
Sophie scooted off and started drawing away. A while later, she came back, climbed up on my lap and very proudly showed me a half dozen or so jewelry designs she made. Then we had this little conversation:
Sophie: "Pop pop, can you make a jewelry from my pictures?"
Pop pop: "Of course I can, but I need to narrow it down to one. Which picture is your favorite?"
Sophie looked at her pictures, thought for a moment and said: "I like the braslet (bracelet) the best" Here's her braslet picture: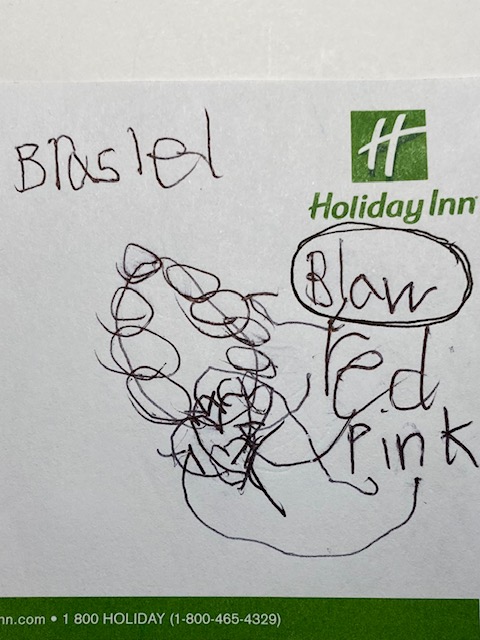 Pop pop: "Okay, now I need to know a little more about your braslet. I see it has some gemstones that are hearts, some are circles and some are eggs. Which do you like best?
Sophie: "I like the eggs!"
Pop pop: "Good choice! I also see three colors, blaw (blue), red and pink. Which color is your favorite?"
Sophie: "The blaw (blue), I like blaw the best."
Pop pop: I circled the word blaw and said: "Very good! Now, it looks like you made a lot of big gemstones in your braslet. How many big gemstones would you want on it?"
Sophie: After considerable thought and counting: "Pop pop, I'm 6 years old, so I would like 6 big gemstones!"
Pop pop: "Ok, Sophie, I will make the braslet you designed with 6 big blaw egg shaped gemstones on it!"
I tucked the note away in a folder I keep with other future design ideas. Years later, I wanted to add a couple bracelets to my offerings. I was going through my folder and came across the picture Sophie drew. I decided it was time to honor my promise and start working on it.
Because she wanted blue gemstones, I felt the best option would be sapphires. A bracelet can easily be banged against hard objects, damaging the stones. For durability reasons, I wanted gemstones better equipped to withstand such punishment. Also, Sophie wanted 6 oval sapphires. Since I was targeting the bracelet to be about 7 inches long, I wanted the sapphires to be large enough that they'd be the focal point, and not get lost in the design. I knew it wasn't going to be easy finding 7 (I wanted an extra stone, just in case) oval sapphires which closely matched color (hue, tone and saturation), shape and size. So, rather than create a design and add yet another layer of complexity to the gemstone search, I decided on a range of stone sizes that made sense. This provided more flexibility in the search and once I found the stones I needed, I could launch into the final design.
I put inquiries out to a number of gem suppliers, but kept coming up empty. It took quite some time, but finally when I was meeting with one of my trusted Thai suppliers, she told me she might have exactly the matched set of sapphires to fit in my 100 East Fine Jewelry Sapphire Collection. They were perfect for the design and were very good quality, so I immediately bought them. I took the sapphires to my lab, tested them and verified they were as advertised.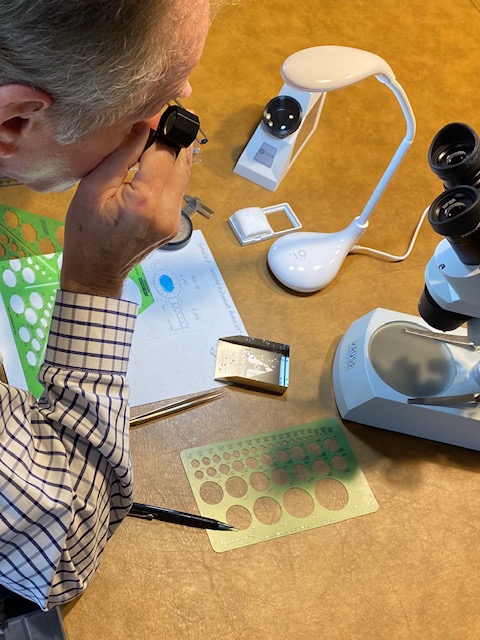 Now it was "game on!" Because of their quality and cost, I needed an overall design consistent with my sapphire investment. I decided to shower the sapphires in accent diamonds to create plenty of sizzle, but still kept the sapphires as the focal point. After experimenting with a number of alternate designs, I created a concept I thought would work.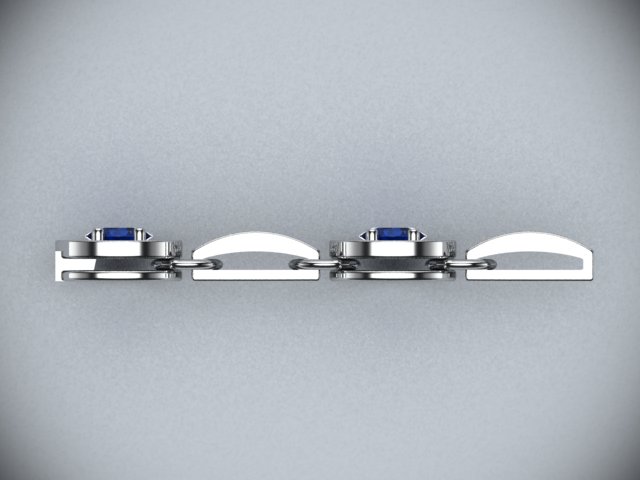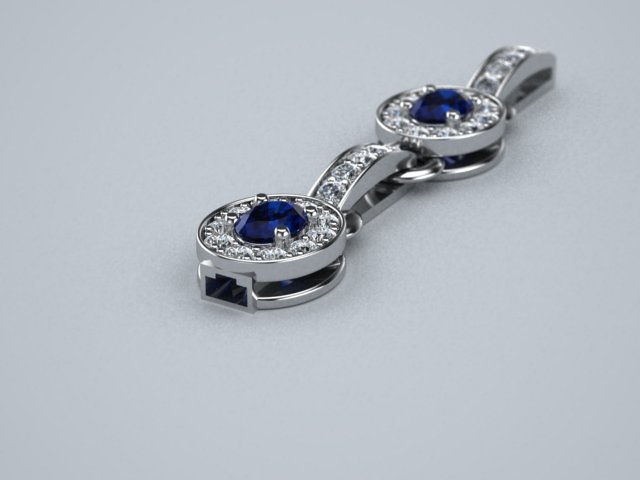 I sent the components off to one of my goldsmiths and was surprised to get a call from him to tell me how much he liked the massive bracelet. I took that as the ultimate compliment, knowing the number of pieces this jeweler sees in a year! When the bracelet was done, I went over it with a fine tooth comb and was quite pleased with the finished product.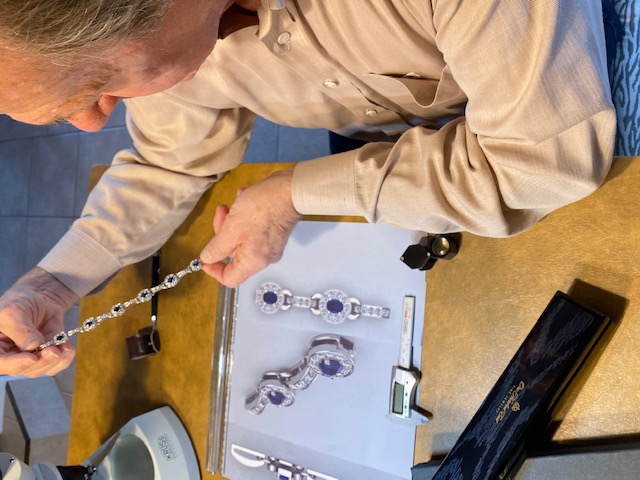 Personally, I think I duplicated Sophie's design exactly, don't you?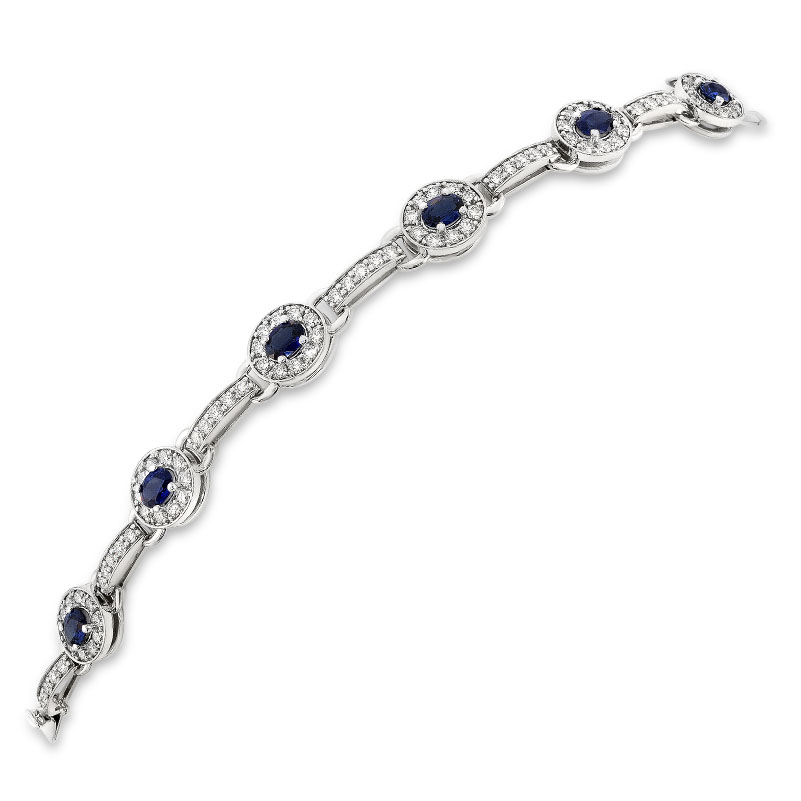 Then, again, I'm more than a little biased! To me, this is Sophie's design. How could I disappoint this face??